Wednesday, June 14, 2017: 
How's it goin', My fellow Hyper-Kinetic Beings? 
Excellent news. I'm almost finished with Mutant Melvin 
and lemme tell ya, the story really did take an interesting turn. 
(Just wait and see when it comes out)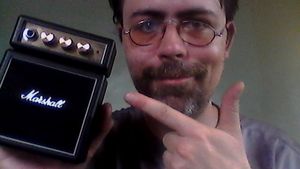 In other news, I finally had to ditch My red and beige 
"RMS" practice amp due to it fading in and out of volume 
during My shows. It started at last year's "Smooth 4-Now" show, 
and I eventually got tired of it, so I broke down and got a little 
50 dollar "Marshall Mini". It runs on a 9 volt and it isn't big and 
clunky like the last one was.
Also, I GOT APPROVED for SSDI 
Yup My ADHD is now CONFIRMED!!! 
So that e.p. I was working on 
before might become a reality.