Friday, July 17, 2015:
Hey, How's it goin'? You've probably seen some pictures with weird numbers pop up lately.
If You haven't figured it out already, allow me to explain - Those are release dates.
The Ambulence Picture - Sultry Queen: 7-24-15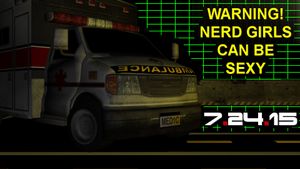 The 5 symbols Picture - Judgment Years set release date: 9-10-15

Also set for release on the 24th is Mutant Melvin 4: Grovestock.
and now Live Shows. Of the nearly dozen shows from last years "Streamathon",
I only managed to download 5 of them.
So sit back and enjoy the 5th and final show I was able to retrieve
from last summer's series of livestreaming shows.